General sheets
Galvatherm immersion heaters
Galvatherm immersion heaters
General sheets > Galvatherm immersion heaters
Galvatherm immersion heaters
General points
Our immersion heaters are manufactured to heat only liquids. They are specially designed with a cable that only heats the part that is to be continually immersed. The cable is covered with a Teflon® coating. This plastic sheath enables the heaters to resist the flow of heat and the chemical attack of the bath.

(1) heating segment, to be kept immersed
(2) non heating cable N, standard length 1 m
(3) connection pipe, IP64
(4) electric connection cable C, standard length1 m

Specifications
The heating segment comes in the form of a flat or cylindrical unit.
It is followed by a non heating cable (called N) which must be covered by at least 20 cms of liquid.
The two black marks on the N non heating cable indicate the minimum and the maximum level of solution.
The connection pipe must be installed out of the tank and out of vapours.
The N non heating cable can be flexible or rigid and lengthened. It is protected by an expandable PP braided sleeving.
After the N part there is a tube called «connection pipe» in which we link our cable to a standard electric connection cable of type HO5 VV-F or HO7 RN-F according voltage and power (C part).
Connection pipe
All necessary information regarding the heater is engraved on its moisture proof connection pipe : reference number, serial number, power and voltage. The connection pipe is IP64 and is injected with PVC
Dimensions : single-phase Ø 30 mm, L=195 mm, three-phases Ø 40 mm, L=220 mm

PRODUCTS - Galvatherm immersion heaters
general technical specifications
of Galvatek immersion heaters ranges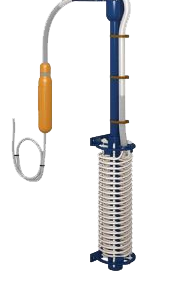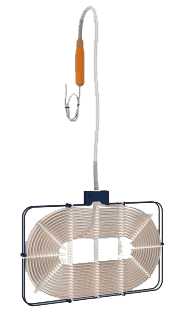 Immersion heatersGalvatherm ®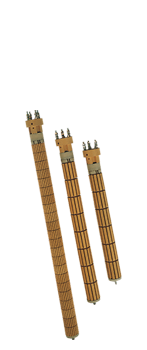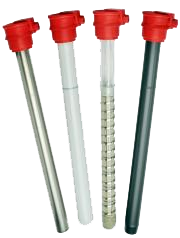 Immersion heatersTube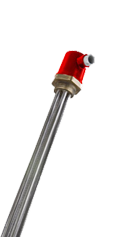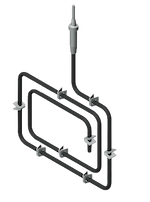 Immersion heatersSheathed tubular
technical
General technical data sheets :